KHS graduate joins vaunted U.S. Navy Blue Angels flight demonstration squadron
As a child, Frank Zastoupil loved going to airshows with his father. He looked up to the U.S. Navy Sailors and Marines flying the F/A-18 Hornet aircrafts as heroes.
Now, as a F-35 Lightning II pilot in the Marines, it's his turn to fly the blue and yellow aircraft as part of the Blue Angels flight demonstration team for the 2020 air show season. Major Zastoupil, a Fort Worth native and 2005 Kingwood High School graduate, joined the Marines after he graduated from Texas A&M University with a bachelor's degree in psychology in 2009. (Read entire article here)
---
KPRC Channel 2 News, by Joel Eisenbaum - Investigative Reporter
HOUSTON - On Monday [May 6, 2019], the superintendent of Humble Independent School District said that damage from a fierce but short-lived storm [the previous] Friday was relatively minimal but will prompt a review of what the district can do to keep the school from flooding. The school was devastated by Hurricane Harvey in 2017 after suffering from flood damage. A recently completed $63 million renovation at Kingwood High School did not include the elevation of any school buildings. Due to Friday's storm, a few inches of water seeped into the school's weight room, a hallway, and a classroom. Read entire article
---
Dr. Nasra returns to KHS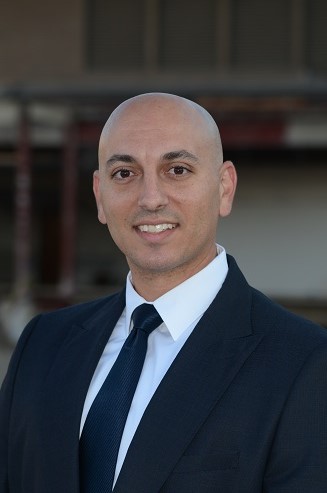 After the early June 2018 announcement that KHS Principal Dr. Ted Landry accepted a position as Principal of The Woodlands High School in Conroe ISD, Humble ISD shared this news:
From Trey Kraemer, Assistant Superintendent for High Schools (June 19, 2018)
Dear Kingwood High School Families,
Dr. Michael Nasra, a former Associate Principal of Kingwood High, has been named Principal of Kingwood High School. Dr. Nasra returns to Humble ISD after serving the past four years as Principal of Keller High School in Keller ISD. Dr. Nasra's 16 years of experience also includes serving as Associate Principal for Atascocita High School, Assistant Principal at Ross Sterling Middle School and at Humble High School, and Math Teacher and Coach at Humble Middle School. Dr. Nasra earned his bachelor's degree at Southwestern University and his master's and doctoral degrees at the University of Houston. He also was chosen for Rice University's Rice Education Entrepreneurship Program (REEP) Business Fellowship for School Leaders. We look forward to seeing students back in August for an exciting new school year! Thank you for your continuing support of students.
---
Class of '86 alumna opens new business in Kingwood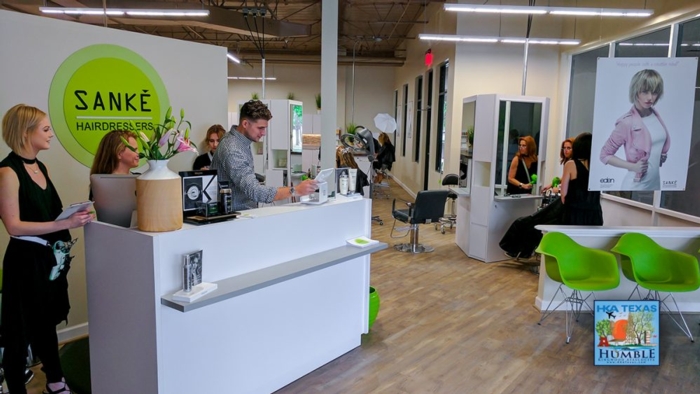 KHS '86 graduate Lisa Huddleston McSwain realized her long-time dream when on April 12, 2017 she opened Sanké Hairdressers in Kingwood's Town Center. The salon, with its sleek, modern feel, is located between Kingwood Bagel and Fedex Office. Lisa isn't the only one celebrating; her many dedicated clients are excited to visit Lisa and her fellow stylists at Sanké! Read an article and see more pictures as published by the Humble Kingwood Atascocita Texas News site here.
---

Re/Max Associates Northeast has new owners!
'88 Rex Wall and wife Candace were featured in a November 2016 article in the Kingwood Observer shortly after taking the reins of the independently owned and operated franchise, which boasts 96 agents in two area offices.
---
2011 Spirit of Kingwood parade (10/29/11)
Wish you were there! Visit the gallery to view parade-day photos.
---

2010 Mustang Pride parade (10/9/10)
A few of the dozens of KHS alumni on staff at KHS! Many were present to serve as grand marshals of the Mustang Pride Parade in October of 2010.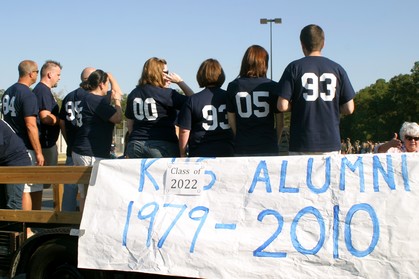 The parade was a first step in an effort by organizers to revive the school's homecoming parade tradition. The practice was halted some years before due to rising liability insurance costs and other factors.
Want your own "KINGWOOD ALUMNI" t-shirt? Visit the "Shop" tab to place your order!
---
KHS Alumni Association Golf Classic
April 13, 2010 ♦ Kingwood Country Club
We had a GREAT time! Many thanks to all sponsors and participants for a successful first-ever golf tournament fundraiser, benefiting the KHS Alumni scholarship fund.
Website members can click here to view the online tournament-day gallery.
First Place: Apple Moving

(L-R: '85 Robert Crawford, '85 Sean Dezell, Jimmie Spurlock and '85 Pat Crane)

Second Place: KHS/Josten's

(L-R: KHS Coach Jeff Bellnap, KHS Coach Ashley Earhart and Asst Princ. Donald Bodron)
Proceeds support youth scholarships, KHS Project Graduation and the Humble ISD Education Foundation.