Humble ISD administrators expect Kingwood High School to reopen by mid-March, allowing about 2,800 students displaced by Hurricane Harvey to return to their home campus.
District Superintendent Elizabeth Fagen said enough construction projects will be completed in the academic wings of Kingwood High School to send students back on March 19. Updated estimates to repair the building and replace materials now exceed $70 million.
Kingwood students have shared space at Summer Creek High School since Hurricane Harvey inundated the campus with several feet of water. Kingwood is the largest Texas campus that remains shuttered due to storm damage.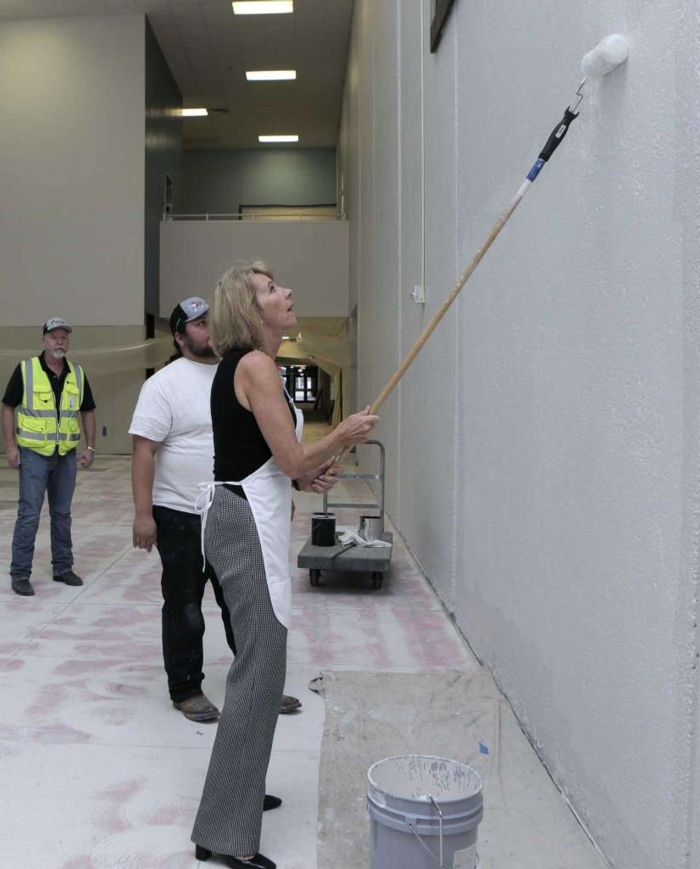 Administrators opened Kingwood on Wednesday afternoon to U.S. Education Secretary Betsy DeVos, who made her second visit to Texas since the hurricane. DeVos toured Summer Creek and Kingwood high schools, meeting with students and district leaders. She was scheduled to speak with about 10 Houston-area principals in the early evening.
"It was great to see how students here are sharing school space, and how their education continues, and how flexible and creative all of this district has been," DeVos said.
Workers toiled Wednesday inside Kingwood, where classrooms remain virtually empty and flooring hasn't been laid. District officials expected the campus to remain closed for several months, with some parents questioning whether it would reopen this school year.
Initial projections for Kingwood High School building repairs were pegged at about $35-40 million, but Humble ISD Superintendent Elizabeth Fagen said this week that the estimated price tag jumped to about $68.7 million once more concrete calculations were made. District officials expect all costs will be paid with money from insurers, the Federal Emergency Management Agency and the state government.
The $68.7-million cost estimate doesn't include the price of replacing furniture, textbooks, supplies, band instruments and other items used by students. Fagen said she spoke with DeVos about nudging FEMA to reimburse the district quickly. Several school districts that dealt with FEMA after Hurricane Ike in 2008 said they're still fighting with the federal agency for money.
"I really wanted to visit with her about FEMA and anything she can do to support us receiving timely payments, given that we're a district approaching $100 million in costs associated with Hurricane Harvey," Fagen said.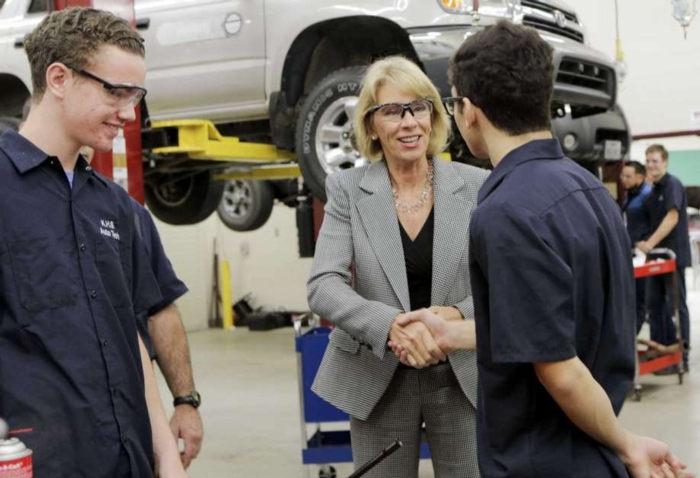 Humble ISD is moving forward with two new projects at Kingwood that likely wouldn't be covered by state or federal funding: construction of a new gymnasium above the site's floodplain, and installation of field turf for athletics and performing arts. The school's current primary gym sits below the site floodplain, and the main athletic field is grass.
The two projects would add another $10 million in costs. District officials plan to use "rainy day" funds to cover costs, with hopes of getting reimbursed through future school bonds.
As construction and planning continues at Kingwood High School, DeVos briefly weighed in on the debate over administering state standardized tests after the storm.
Texas Education Commissioner Mike Morath has given no indication that he plans to cancel the state's primary standardized test, known as STAAR. Morath said Tuesday that "essentially all" federal funding for Texas' schools -- which totaled about $6 billion last year -- could be withheld if the state cancels STAAR.
Asked about the possibility Wednesday, DeVos said she's "heard some conversation around that."
"We've not had any official discussion or request in that regard, but we certainly want to work with the leadership here in Texas to meet the needs of the individual kids being served," DeVos said.
State Rep. Dan Huberty, R-Houston, the chairman of the House Public Education Committee, asked Morath on Tuesday to inquire about the possibility of receiving federal waivers for testing.
"The first rule of sales is 'you don't get it if you don't ask for it,'" Huberty said. He didn't suggest he favors canceling standardized tests across the state.
DeVos also visited schools Wednesday in Port Aransas, a coastal city about 200 miles southwest of Houston that was directly hit by the hurricane's strong winds.