Dear Humble ISD Families,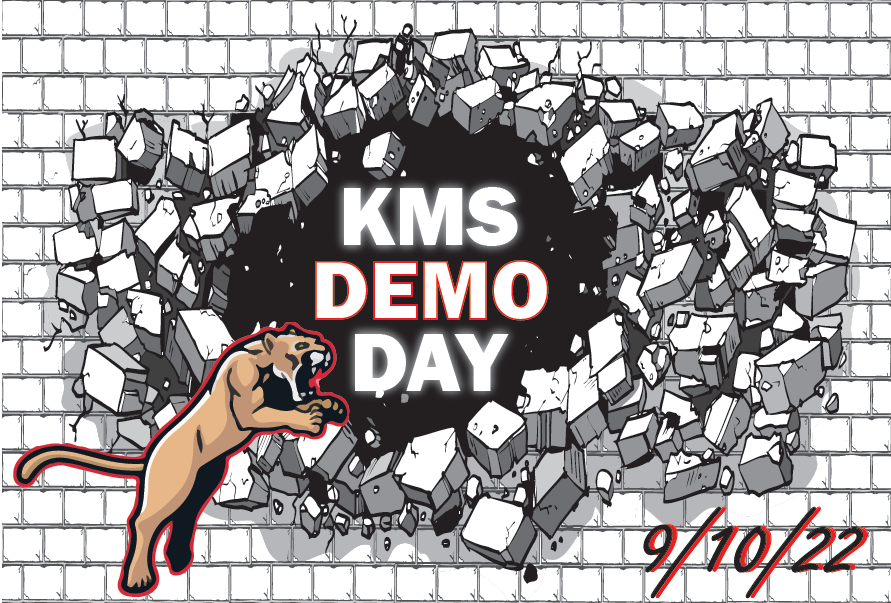 Kingwood Middle School, which opened in 1977, was replaced with a brand new campus this school year to provide students with educational facilities comparable to schools built more recently. The new campus is in the same location as the original, at 2407 Pine Terrace in Kingwood.
Humble ISD invites the community to a very special event ~ KMS Demo Day ~ on Saturday, September 10. Come and take one final walk through the original campus and see the brand new campus. There is no charge to walk through the schools; however, tickets will be sold to take part in a special demolition and spray paint activity as the walls of the original school are set to come down!
Flintco Construction will be providing food trucks at the event, along with safety equipment and staff for those who participate in the demolition activity. Locker doors, bricks, and gym flooring memorabilia will also be available for purchase.
The schedule for the event is as follows:
Saturday, September 10
8:30 a.m. to Noon: Food Trucks Open
9 a.m. to 9:45 a.m.: Take a Final Walk
9 a.m. to 11:30 a.m.: New KMS Open House
9 a.m. to 11:30 a.m.: Purchase memorabilia or tickets for demo activities
10 a.m. to 11:30 a.m.: Demolition and Spray Paint

Event and Area Closed at Noon
Memorabilia items are available for purchase now on the KMS RevTrak website, or at the event. Tickets for the demolition activities will be sold at the event in the cafeteria of the old KMS. Only credit and debit cards will be accepted; no cash will be accepted for demo activities and memorabilia purchases.
Memorabilia items include: Bricks $10; Gym Floor Squares $5; Locker Doors $20
Tickets for Demo Activity: $10 for 2 minutes; Spray Paint $20 for 3 minutes
We hope you will come out to join us as we honor the legacy and history of Kingwood Middle School!
Site Map: Entrances, Food Trucks, Parking