---

Class of '87 30-year reunion
Saturday, October 21, 2017, 7:00 pm, The Overlook (20114 Pinehurst Dr, Atascocita, TX 77346)
Buy tickets here: Class of '87 Reunion
---
Class of '86 alumna opens new business in Kingwood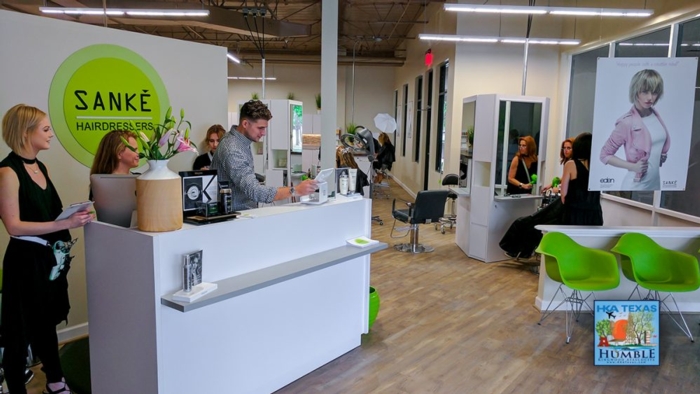 KHS '86 graduate Lisa Huddleston McSwain realized her long-time dream when on April 12, 2017 she opened Sanké Hairdressers in Kingwood's Town Center. The salon, with its sleek, modern feel, is located between Kingwood Bagel and Fedex Office. Lisa isn't the only one celebrating; her many dedicated clients are excited to visit Lisa and her fellow stylists at Sanké! Read an article and see more pictures as published by the Humble Kingwood Atascocita Texas News site here.
---

Re/Max Associates Northeast has new owners!
'88 Rex Wall and wife Candace were featured in a November 2016 article in the Kingwood Observer shortly after taking the reins of the independently owned and operated franchise, which boasts 96 agents in two area offices.
---
Got your shirt?
"KINGWOOD ALUMNI" t-shirts are available for purchase online! Pictured here sporting his alumni tee (and Mustang spirit!) is '84 grad and KHS staff member Mark Krimm, speaking to a crowd on campus after the Oct. 2010 Mustang Pride parade. Photo courtesy Mindy Gardner McQueen ('87).
Click here to buy now.
---
2011 Spirit of Kingwood parade (10/29/11)
Wish you were there! Visit the gallery to view parade-day photos.
---

2010 Mustang
Pride parade (10/9/10)
A few of the dozens of KHS alumni on staff at KHS! Many were present to serve as grand marshals of the Mustang Pride Parade in October of 2010.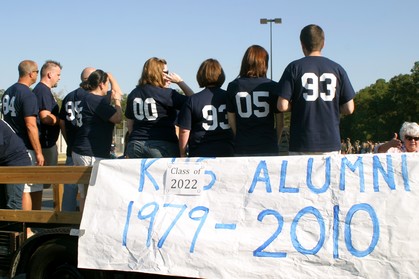 The parade was a first step in an effort by organizers to revive the school's homecoming parade tradition. The practice was halted some years before due to rising liability insurance costs and other factors.
Want your own "KINGWOOD ALUMNI" t-shirt? Visit the "Shop" tab to place your order!
---
KHS Alumni Association Golf Classic
April 13, 2010 ♦ Kingwood Country Club
We had a GREAT time! Many thanks to all sponsors and participants for a successful first-ever golf tournament fundraiser, benefiting the KHS Alumni scholarship fund.
Website members can click here to view the online tournament-day gallery.
First Place: Apple Moving

(L-R: '85 Robert Crawford, '85 Sean Dezell, Jimmie Spurlock and '85 Pat Crane)

Second Place: KHS/Josten's

(L-R: KHS Coach Jeff Bellnap, KHS Coach Ashley Earhart and Asst Princ. Donald Bodron)
Proceeds support youth scholarships, KHS Project Graduation and the Humble ISD Education Foundation.
---


Turner Stadium
It's not the stadium you remember. It's better!
See pictures of Turner Stadium's recent renovations, or visit the Humble ISD Athletic Dept page for season ticket information, directions and more! (Psst---you can rent an indoor, air-conditioned press box suite for six people during football games. Dinner included!)