** Having a class or club reunion? Please let us know so we can help spread the word! **
Humble ISD schools and buildings closed through April 10, 2020
Humble ISD schools and buildings will be closed, with all events and activities canceled, through Friday, April 10. This is part of the ongoing effort to support our nation's need to "flatten the curve" of the COVID-19 pandemic. The Houston area continues to see an increasing number of confirmed cases of COVID-19. Health officials report that this number is expected to continue to increase as more testing is made available. Read district's announcement

UPDATE: Postponed due to coronavirus
- KHS 40th Anniversary Celebration
Originally scheduled for Sat., March 21st, 10:00 am – 2:00 pm; school hopes to reschedule for later in the spring (2020). If held, the event will feature KM4B (Kingwood Band) annual 5k/10k, Band on the Run, at 8:30 am (timed, USATF certified), followed by a 1k Fun Run at 10:00 am. A community-wide celebration of Kingwood High School's 40 years of Strong Traditions & New Beginnings! Will include entertainment, food trucks, bounce house, special guests, race award ceremony, and more. Click here for information.
KHS boys swim team places first in state, girls swim team second
AUSTIN -- For the first time in more than a decade, the Mustangs are back on top. The Kingwood boys captured their sixth overall state championship and first since 2009 on Saturday, February 15, 2020 at the Lee and Joe Jamail Texas Swim Center. The Kingwood boys weren't the only Mustangs who came to race on Saturday. The girls team delivered a runner-up finish with 235 points, trailing only Southlake Carroll (284) in the final standings. Read full article

Humble ISD to undertake $30M floodgate project for KHS
Kingwood High School is one step closer to getting some flood relief as the Humble ISD board of trustees on Oct.15, 2019 approved PBK Architects as the architectural firm for a major flood mitigation project.$30M floodgate project. KHS suffered major damage from Hurricane Harvey-related flooding in 2017. Following a $63 million renovation, some parts of KHS flooded during heavy rains in May of 2019 and again during Tropical Storm Imelda in September of 2019. For the 2019-20 academic year, contractors hope to finish gym floor repairs in time to open the gym to student use in early 2020. Read more about the floodgate project here, and about damage to KHS from Tropical Storm Imelda here.
---

Class of 2000 20-year reunion
Thursday July 16 – Sunday July 19, 2020 in the Bahamas at the all-inclusive Melia 4-star resort
Click here for details on Facebook
---

KHS Reopens March 19, 2018 after Hurricane Harvey flooding
Read a Houston Chronicle article about the KHS community returning home.
---
Kingwood High School restoration to include improvements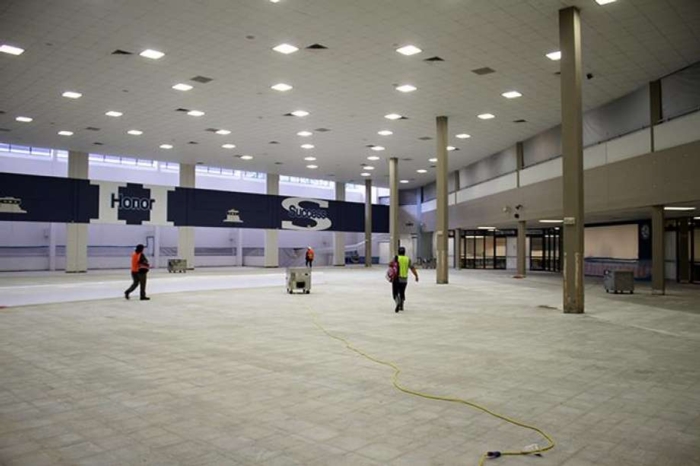 Humble ISD Superintendent Elizabeth Fagen presented four options to the school board at its regular meeting on November 14, 2017. Read a Kingwood Observer article about these options and the administration's recommendation here.
Related: read about a November 15 visit by U.S. Secretary of Education Betsy DeVos here.
---
Over a few days in late August 2017, Hurricane Harvey dropped an unprecedented 40-50 inches of rain over the Houston area. The San Jacinto River rose to record-breaking levels, exceeding even the 1994 floods. The entire KHS campus sustained extensive damage. Visit our Hurricane Harvey page for up-to-date information and ways to help.
---
Got your shirt?
"KINGWOOD ALUMNI" t-shirts are available for purchase online! Pictured here sporting his alumni tee (and Mustang spirit!) is '84 grad Mark Krimm, speaking to a crowd on campus after the Oct. 2010 Mustang Pride parade (he was on staff at KHS at the time). Photo courtesy Mindy Gardner McQueen ('87).
Click here to buy now.
---


Turner Stadium
It's not the stadium you remember. It's better!
See pictures of Turner Stadium's renovations, or visit the Humble ISD Athletic Dept page for season ticket information, directions and more! (Psst---you can rent an indoor, air-conditioned press box suite for six people during football games. Dinner included!)
---